Logistics system
Our mission is to ensure delivery of pharmaceuticals.
Prescription pharmaceuticals are directly linked to lives and health of patients.
For fulfilling our mission to distribute secure and safe pharmaceuticals, we achieve the highest level of quality (thorough quality control), safety (traceability) and efficiency (establishment of the efficient logistics environment) by introducing cutting-edge technologies.

Seeking for the ultimate accuracy
In order to deliver pharmaceuticals in a secure and safe manner, we are aiming at full automation of the logistics system by utilizing the advanced robot technology. Our latest distribution center has introduced robots for picking and loading, resulting in higher efficiency with less workload. Our shipment accuracy is 99.99999%. Moreover, our guaranteed shipping accuracy allows to omit inspections at delivery to our clients. This enables to greatly reduce the inspection time for clients.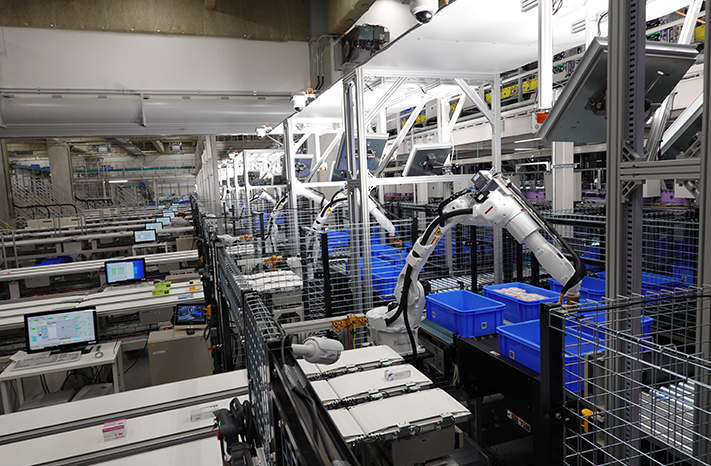 Robust business infrastructures
In addition to pharmaceuticals delivery with accuracy, we undertake reforms through integration of sales and distribution to strengthen our services. For example, coordination between distribution and call centers allows call center operators to inform real-time inventory data and time of delivery to medical institutions.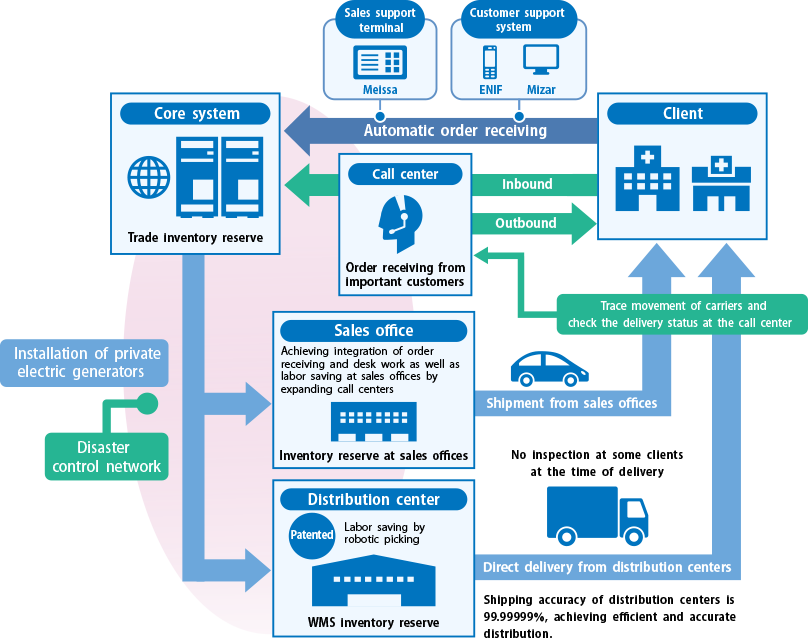 Pharmaceutical supply at the time of disaster
We cannot halt pharmaceutical supply even at the time of an unpredictable disaster. In anticipation of a disaster, we have established the structure for stable supply of pharmaceuticals in an emergency by redundant host computer and warehouse management system, coordination among call centers, installation of uninterruptible devices and periodic emergency drill.
We are also operating a highly-functional, consolidated, large distribution center "TBC Dynabase" inside Keihin Truck Terminal, which is the wide-area transportation base designated by the Tokyo Metropolitan Government in an attempt to supply pharmaceuticals immediately and smoothly even in the event of a large-scale disaster.
Thermal management system
We have developed our original cooling box, starting from selecting materials. Vacuum insulating materials are used for this cooling box, resulting in the overwhelmingly higher cooling function than other products. It is also compatible with pharmaceuticals requiring strict temperature control. Through the unified management from shipping from distribution centers to delivering to clients via sales offices, we achieve traceability also in terms of temperature control.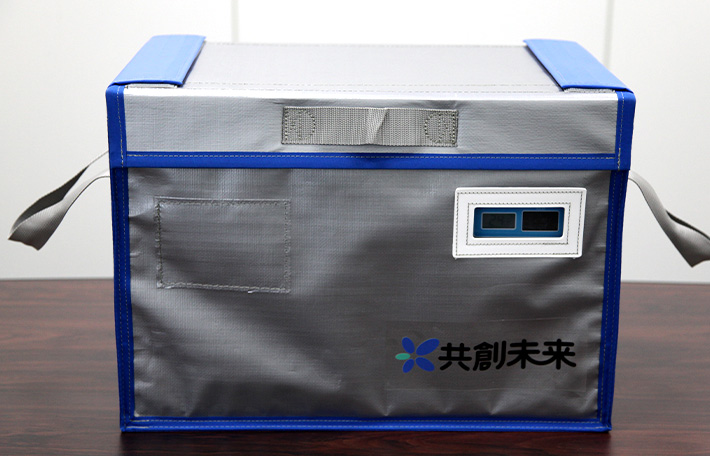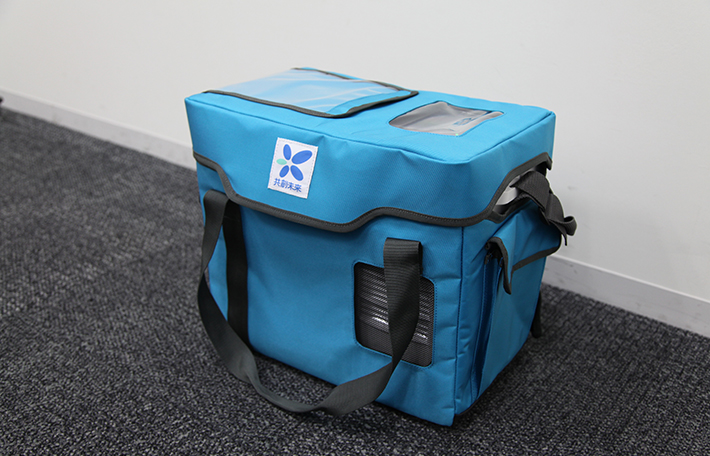 We continue to make every effort to achieve secure and safe distribution of pharmaceuticals.